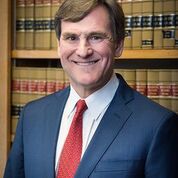 Brad Bailey is a cum laude graduate of Harvard College. He earned his J.D. from the University of Virginia School of Law, an America "Top Ten" law school. One of the most experienced trial attorneys in New England, Brad has been actively practicing law for over thirty-seven (37) years. He began his legal career in Manhattan, where he served as a Felony Trial assistant for the New York County D.A. After prosecuting serious felony-cases and trying and winning multiple jury trials at the NY Supreme Court level, Brad returned to his native Massachusetts and joined the Middlesex County DA's Office where he served as a Senior Trial Assistant. As such, he was responsible for prosecuting murders, rapes, and narcotics trafficking cases, as well as others of the Office's most serious felonies. During his tenure with the Middlesex DA, he tried more superior court cases (26) in the shortest amount of time (22 months) than any other trial lawyer in the office. His conviction rate was over 95%. From there, Brad moved on to the Office of the U.S. Attorney in Boston, where he served as an Assistant U.S. Attorney. As a federal prosecutor, Brad first worked in the Organized Crime Strike Force, where he principally investigated and prosecuted suspected Made Members and Associates of the "Patriarca Crime Family" of La Cosa Nostra (AKA "the Mafia"). While in the Strike Force, he oversaw and participated in numerous court-authorized wiretaps and helped secure convictions against upper echelon individuals including a suspected Under Boss, several Capos, and LCN Soldiers. Brad also served in the U.S. Attorney's Organized Crime Drug Task Force (OCDTF), where he was responsible for the investigation and prosecution of regional, national, and international drug trafficking organizations. Prior to leaving the Office, Brad earned the U.S. Attorney's top ranking of "Outstanding Prosecutor".
In addition to his nearly one-dozen years as a state and federal prosecutor, Brad has served as Sheriff of Middlesex County, Massachusetts' largest county, where he was responsible for the custody, care, and daily court transport of nearly 1,200 county pretrial detainees and inmates and supervised nearly 750 county employees. He also served as the state-wide "Anti-Drug Czar", where he was tasked with creating substance abuse-related policy and initiatives, and also with seeking, obtaining, and awarding state and federal grants for drug education, awareness, and prevention programs on behalf of two governors.
For the past twenty-one (21) years, Brad has focused his attention solely on state and federal criminal defense. Admitted to full-time practice in MA, NH, and NY, as well as in the Federal Districts of MA, NH, the Southern, Eastern, and Northern Districts of NY, and the First Circuit Court of Appeals, Brad is one of the Commonwealth's best-known trial lawyers and has defended some of the highest -profile cases in the new England Region. Highly sought-after as a defense lawyer, he has also handled cases on a pro hac vice basis in at least ten (10) other states in which he is not admitted to full-time practice, including all other NE states, and also in CA, MD, VA, AK, NJ, and WI. In MA, NY and NH, where he continues to be licensed full-time, Brad defends clients in all courts at all levels and is consistently called-upon to defend amongst the most serious charges in state and federal court. His list of clients includes local, state and municipal police officers, as well as corrections officers and personnel. His law firm, Brad Bailey Law P.C., is in downtown Boston.
Brad is rated "AV" (Preeminent), which is Martindale's highest peer-review ranking. He also has a perfect 10.0 (Superb) ranking on AVVO and is a multi-time Super Lawyer not only for MA, but also for the entire New England Region. To learn more about him, please visit his website, bradbaileylaw.com.