MPPA Pickets City Hall Over Working Conditions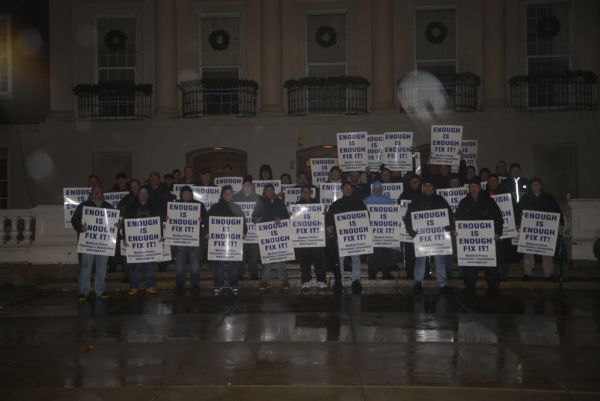 MPPA Membership say Enough is Enough. Fix It!!!
Members of the Medford Police Patrolmen's Association stood in the rain Tuesday night (11/30/16) to send a clear message that they are fed up with the deplorable working conditions at Police Headquarters. Holding picket signs that said "Enough is Enough...Fix It!!!" the MPPA sent the message to City Hall that the time to fix things at 100 Main Street is now. Members of the Medford Police Superior Officer's Association stood with the MPPA in a show of solidarity. Medford Firefighter's Local 1032 President Bill O'Brien also stood in a show of support. Medford City Councillor George Scarpelli did not cross the Picket Line even though he was clearly not dressed for the weather. City Councillor John Falco also refused to go in the side door and walked the line shaking Members hands. Former City Councillor and Mayoral Candidate Robert Penta stood and held a sign with MPPA Members throughout the Picket. Mr. Penta then addressed the City Council in passionate defense of the MPPA Membership.
The Picket was a culmination of a "MPPA FACT CHECK" campaign that the MPPA waged on it's Facebook page. The MPPA put pictures and videos up on it's Facebook page a regular basis to give the public a glimpse of the conditions under which Officers work on a daily basis. From out of control mold, to rusted, damged cruisers, broken windows and leaky pipes, the MPPA FACT CHECK got an unusual amount of attention and public support much to the dismay of City Hall. The most disturbing issue is the fact that the Female Officers of the Medford Police Department do not have a locker room where as their male counterparts do. The first female officer was hired in Medford in the early 1980's. Whether or not the FACT CHECKS are the reason, the Administration has begun to take matters seriously and seems to be looking into making neccessary and long overdue repairs although nothing has happened to date. There is also a serious discussion in the City fueled by Citizen outrage to build a new Police Station.
The MPPA has been at odds with the City of Medford over working conditions at Police Headquarters since 2009. Grievances have been filed on differant issues and a promise to build a new station was made to MPPA Leadership during a 2011 Mayoral Race. That promise was never fullfilled as well as the City's obligation to conduct routine maintenance only worsened conditions over the years at the Police Station leading to the FACT CHECK Campaign.
While the MPPA got the City's attention, it remains to be seen whether any real improvements actually occur.